Why You Shouldn't DIY Installing Window Shutters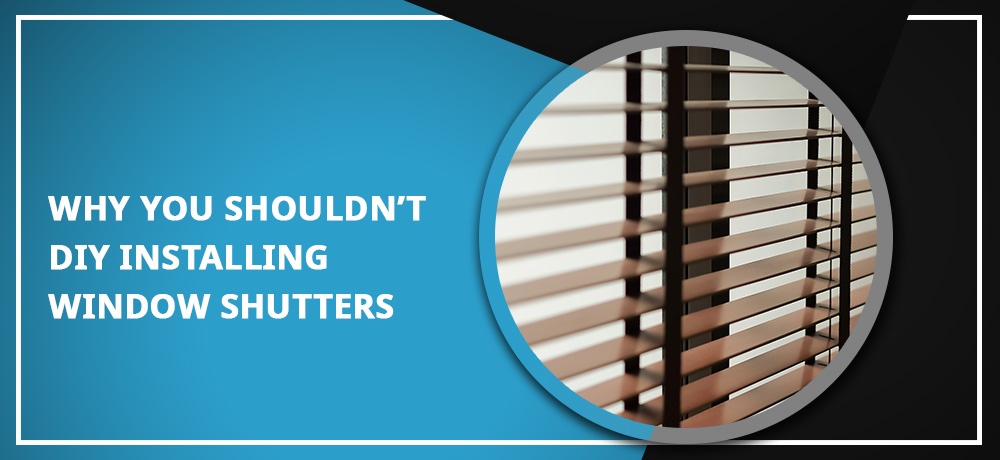 Window shutters help to control light, add personality to rooms, and require minimal upkeep. Various styles and colors are also available, making them a popular choice for homeowners planning renovations.
Unfortunately, over recent years social media tutorials, home improvement shows, and DIY salespeople have encouraged homeowners to carry out shutter installations themselves. However, installing shutters is a skilled job that requires precise measurements.
Therefore, at Modern Window Fashion, we believe it's best to call in a professional window coverings installer to fit shutters. Not convinced? Please take a few minutes to learn why you shouldn't DIY installing window shutters.
Potential product damage
You could damage the products if you don't know what you are doing. Also, if you attempt to do the work yourself, you could miss out on receiving the manufacturer's warranty. It means that you would have to replace the products from your own pocket.
Walls get ruined
While drilling holes to fit the shutters, you could accidentally damage the walls and window frames. You would then have to call in multiple tradespeople to repair the walls, which would be expensive.
Do things right- Hire a professional!
We hope that you're now considering hiring a professional. A professional installation company will make it easier for you to pick out products that suit your space. The specialists would also use their expertise to install the shutters perfectly, saving you precious time and money.
The cost of the products and services will vary from vendor to vendor, so do your due diligence and conduct research by seeking advice from veterans in the industry.
If you require an expert window coverings company in Ontario, Canada, contact us today. At Modern Window Fashion, we have twenty-eight years of experience installing residential and commercial window coverings. We offer quality products and a service that's second to none.
Our products include California blinds, Honeycomb blinds, roller shades, window shutters, and California plantation shutters. Our services include window glass replacement, window shutter repair, shutter respray, door inserts for stain glass, and door inserts for wrought iron.
We serve clients across Toronto, The GTA, Etobicoke, Mississauga, Barrie, Hamilton, Oakville, Tillsonburg, and Richmond Hill. We also cover Burlington, Brampton, Guelph, London, Vaughan, Simcoe, Pickering, Stouffville, and the York region, to name a few places.
Get in touch today!
To learn more about our services, click here or get in touch with us by clicking here.
---
---